Wow, Theresa May does it again. Reshuffled her cabinet and added a joker. Makes someone responsible for a brief so unbelievably unsuitable that you aren't quite sure it isn't some elaborate prank.
The woman who gave us Boris Johnson for Foreign Secretary and kept Jeremy Cunt as Health Minister (don't tut I know you think when you see him) has now put the Murdoch lap-dog into Environment.
Let's face it one thing he is good at is sucking up to money and/or power. There's toadying and then there's Gove.
Did he not do enough damage in Education? This is the man who said " the public have had enough of experts." One of the chief Brexit gobshites who I would say ran the most inept political campaign ever when he ran for Tory leadership except I've just experienced May's GE campaign.
Even she wouldn't touch him last year – I believe she said he had to learn loyalty. I can't believe he is that quick a learner, this is the man who thought it was possible for a majority of schools to be over average. (He obviously had enough of statistics at that point)
May say's he is a shy green (a phrase that for some reason makes me think of goose shit) but he wanted to drop Climate Change from the geography syllabus while Education Secretary.
Further examples of his extreme shyness have been highlighted by @Rachel_Swindon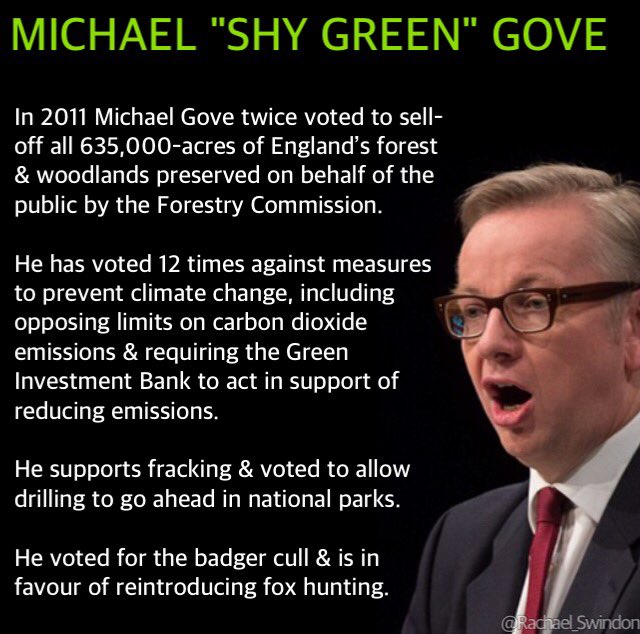 In March this year he said that post-Brexit the UK should cut our environmental regulations to boost business, this includes planning constraints for green belt,  wildlife protection and drug safety trials!
The only slight plus I can see from this is that it will be him that has to tell Leave supporting fishermen that their fishing rights are being handed over to protect the City. This feels like poetic justice after all the crap he came out with during the EU referendum.
It's not much but I can't wait to see his next return to Aberdeen.